<< GO BACK
In 2013 Solihull was declared to be the best place to live in the UK in terms of living standards, and in 2014 it was named one of the top 5 destinations for shopping. What exactly is it that makes this town, located 15 miles to the south east of Birmingham, such a desirable place to live? We asked two of our property experts, both of whom live in Solihull, precisely that question.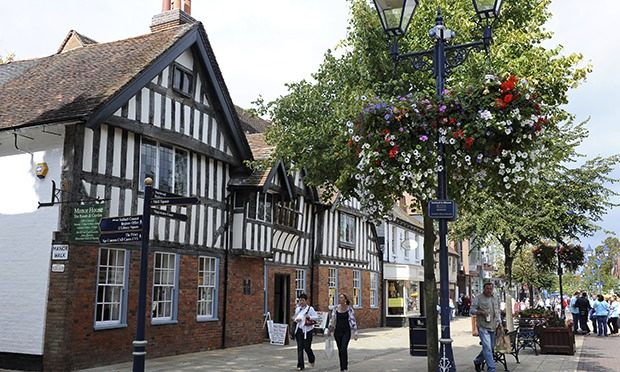 Josh Keay - Sales Specialist
'Having moved to Solihull over 4 years ago, I could not have found a better place to suit my lifestyle.
If, like me, you lead an active lifestyle, then Solihull has plenty to keep you busy.
When I'm not selling houses I like to don my wellies, grab my coat, and take my husky out across the ample countryside that is right on Solihull's doorstep. You can go as far as you want and enjoy the beautiful scenery that surrounds you. It really is hard to believe that all this beautiful countryside is so close to such a fantastic town centre.
Here in Solihull there are a variety of sporting facilities too. There are a range of golf courses to suit anyone's ability, from Widney Manor Golf Club to Stonebridge Golf Club, so whether you fancy a few holes with friends or a competitive round, you wont be disappointed.
For those who aren't fans of golf, there are still plenty of activities to get your blood pumping, from various gyms to Tudor Grange Sports Centre. Whatever your sport or activity there is no doubt Solihull will have you covered. With various sports teams representing the town, from Solihull Moors to Solihull Bees, and many famous sportsmen raised in the borough, you could say Solihull is ideal for anyone keen on an active lifestyle.'
Lisa Hunt - Solihull Branch Director
'Solihull was recently voted one of the best places to live in the UK, and I for one, as a true "Silhillian", whole-heartedly agree.
The area offers such diversity, and caters for people of all ages. Where else, for instance, can you find 3 beautiful parks in one town centre which all offer lovely walks, cycle routes and play areas? There are a variety of areas to choose from to have a picnic, or if you wish to be catered for there are cafes offering refreshments for all.
Along with this, perhaps the best reason for living in Solihull (from my point of view at least!), is of course the shopping. There are a vast array of shops featuring some of the best names on the high street, as well as individual boutique style outlets. The John Lewis adds yet another dimension, featuring more of the exclusive style brands that you would come to expect in such an affluent town.
There is also a great choice of bars and restaurants within the town and, whilst the nightlife could perhaps benefit from a little more glamour, the plans which are in place to extend Touchwood and feature a courtyard-style eating destination should hopefully change this.
But if you are looking for a more refined dining experience then you don't have far to go, as there are plenty of gastro style pubs and Michelin-starred restaurants within easy reach. A 10 minute train journey will take me into Birmingham City Centre, or a 20 minute drive down the motorway takes me to Stratford-upon-Avon or Warwick. Likewise, if I am feeling adventurous, I can catch the train at Solihull Station and be in London within an hour and a half.
I have lived in Solihull for nearly all my life, and my two children have grown up here and attended one of the many excellent schools in the area. Whilst we have seen lots of changes to the town over the years, most of them have been for the better, and there is not another place I could wish to reside that offers the quality of life that Solihull does.'
To view all of the properties we currently have available to buy in Solihull, click here.